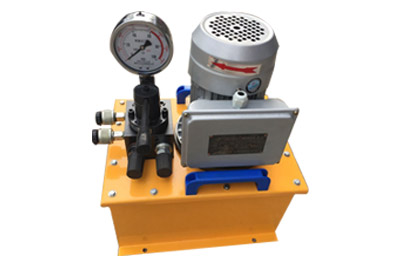 Electric Oil Pump
This ultrahigh pressure electric oil pump is a complete hydraulic power pack, it is made of oil pump, control valve, oil box, motor, oil gauge and etc.

Features
1.Small dimension, light weight, convenient usage, high working pressure
2.Pump station: high-low pressure pump supply oil at the same time when low pressure, it can get the large output flow; low pressure pump automatically unloading back the oil via control valve when high pressure, it can reduce the consumption of electric motor.
3.Holding function: at the condition that outer oil-way is no reveal, stop the pump for holding 5 minters, rated pressure reduce less than 5Mpa.
Application
1.The oil pump is matched with other hydraulic tool, it can supply driven for lifting, profiling, bending pipe, straightening, tearing down, cutting,installing, gauging pipe, punching and etc.
2.2)It also can be installed into some machine for supplying power pack.
3.3)As test pressure pump station for kinds of high pressure hydraulic component, high pressure container, high pressure rubber hose.
Technology data
Mode
WorkingPressure Mpa
High pressure flow L/min
ow pressure flow L/min
Power Kw
Voltage V
Oil capacity L
ZB-0.55
63
0.4
1
0.55
220/380
7
ZB-0.75
63
0.7
2.4
0.75
220/380
16
ZB-1.5
63
1
6
1.5
220/380
26
ZB-2.2
63
2.4
6
2.2
220/380
42
ZB-3
63
3
6
3
220/380
42
ZB-4
63
4
9
4
220/380
60
ZB-5.5
63
6
9
5.5
220/380
90
ZB-7.5
63
7
9
7.5
220/380
120
ZB-11
63
9
15
11
220/380
150
Pictures