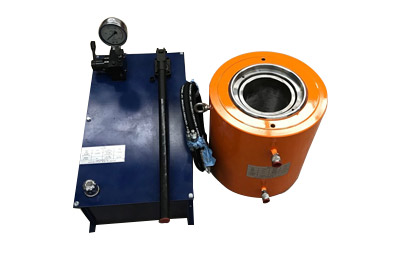 YDC Prestressed Post Tension Hydraulic Jack
YDC series of light weight hydraulic jack, in order to meet the demand of customer and project, keep and develop the advanced technology and qualitative advantages, it is designed through computer analysis and optimization grouping, repeated trials, especially, cylinder adopt prestressed advanced processes, make it lighter.
The hydraulic jack not only small dimension, light weight, but also high strength, good sealing performance, safe, reliable.
The jack matched with different accessories, it can be used for different anchors in the pre-tension or post tension prestressed project.

1.It is widely used for the construction of bridge and buildings, railway and subway, water conservancy and hydropower engineering matched with prestressed anchorage and strands.
2.It is suitable for stressing mono strands or multi strands, the specification is Φ15.24 andΦ12.7.
3.In some certain circumstance it can be used in the working of pushing, jacking and transforming and so on.
4.Easy to use with reasonable price .
5. Jack is used for prestressing workshop.