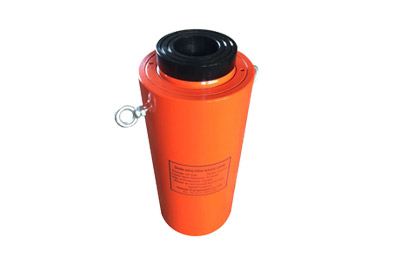 Single Acting Hollow Hydraulic Jack
single acting hydraulic jack, it has safe protect pressurizer, built-in pressure relief valve in order to protecting over loading, and it is good for safe operate. All the model can be customized according to client's requirements. The hydraulic cylinder is main used for electric power, building, machine manufacturer, mining, subway, bridge and shipbuilding and kinds of industry for installing, lifting and tear down.

Features
1.Single acting hollow cylinder.
2.It is matching single-track manual oil pump.
3.It can be customized.
Technology data
Mode
Capacity ton(KN)
Stroke mm
Efficiency area (cm2)
Capacity of hydraulic oil (cm3)
Closed height A (mm)
Extend height B (mm)
Outer diameter D (mm)
Center hole Y (mm)
Weight (Kg)
"> RCH-120
12(128)
8
17.9
14
56
63
70
19.6
1.5
RCH-121
12(128)
41
17.9
73
121
162
70
19.6
2.8
RCH-1211
12(128)
41
17.9
73
121
162
70
19.6
2.8
RCH-123
12(128)
76
17.9
136
184
260
70
19
4.4
RCH-202
20(196)
51
30.5
15.6
162
213
99
26.9
7.7
RCH-206
20(196)
155
30.5
473
306
461
99
26.9
14.1
RCH-302
30(294)
63
46.6
294
179
242
127
33.3
10.9
RCH-306
30(294)
156
46.6
727
330
486
127
33.3
21.8
RCH-603
60(588)
76
82.2
625
248
324
159
53.8
28.1
RCH-606
60(588)
152
82.2
1249
324
476
159
53.8
35.4
RCH-1003
100(980)
76
133.1
1012
254
330
213
79
59.9
Detailed photos