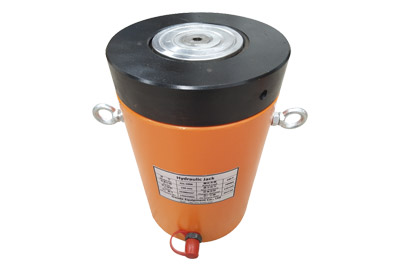 Self-locking Type SActing Hydraulic Jack
Self-locking type hydraulic jack is used for supporting heavy in the long term, it could support heavy without oil pressure, safe and reliable. It also could be used under water, single acting, return with loading, nut can be locking automatically, making loading more safe, especially in the large project, it is more easily to be operated and controlled, it has pressurizer, pres-relief valve is prevent to over load in the cylinder to protect jack. The connection of the device adopt high pressure and thread couple, it has the function of quick use, and it also could conquer the disadvantage of oil leak. The jack is mainly used for rising, topping, tear downing in electric power, building, machine manufacturing, mining, railway, bridge, shipbuilding and many industrial.

Features of self-locking type hydraulic jack
1.Single acting hydraulic jack.
2.Nut could be locking automatically, making load more safe.
3.Specially-made composite material coating has stronger anti-corrosion, and less force of friction.
4.Overflow hole has the function of limiting stroke.
5.The top of piston rod is with a ringlike sphere spacer, it is allow about 8% of bias factor, keeping the pressure of the jack balanced, making jack more longevity.
6.Self-locking hydraulic jack can be customized into double acting hydraulic jack according to the requirement of customer, but closed height need to be increased.
Usage of self-locking type hydraulic jack:
1.If the oil capacity is not enough in the pump, it should pour working oil(10#) and then start to work.
2.Estimate tonnage, prohibit to overload.
3.Confirming the center of gravity of jack, finding the point of strength, meanwhile, it should consider the degree of hardness and softness of ground, whether it need to add a plank to prevent jack will be slant when lifting.
4.After jack lift the heavy, it should use some tough wood to support the heavy, prohibit to use jack as upholder to prevent unbalanced load, there has the dangerous of slant.
5.when working, firstly, it should connect quick coupling with jack, choose a suit placement, screw the bolt of oil pump, and then it could start to work, unscrew the bolt, the cylinder will be unloading.
Technology data
Mode
Capacity T(KN)
Stroke mm
Effective area of cylinder cm2
Capacity of hydraulic oil cm3
Closed height mm
Extend height mm
Outer diameter mm
Weight Kg
CLL-55-200
55
200
71.3
1426
314
514
125
31
CLL-100-200
100
200
133.3
2666
337
537
165
57
CLL-150-200
150
200
198
3960
359
559
205
92
CLL-200-100
200
150
266.5
3997.5
343
493
250
118
CLL-250-250
250
250
366.4
9160
449
699
275
210
CLL-300-250
300
250
457
11425
495
745
310
293
CLL-400-250
400
250
559
13975
535
785
350
403
CLL-500-250
500
250
730
18250
575
825
400
568
CLL-600-250
600
250
857
21425
595
845
430
680
CLL-800-250
800
250
1179
29475
655
905
505
1031
CLL-1000-250
1000
250
1465
36625
695
945
560
1335
Remark: The tonnage and stroke can be customized as requirements.
Detailed photos: